Racing Seat Simulator Hire
Racing Seat Simulator Hire
At PSW Events we want you to feel as if you are in a race for glory with our racing seat simulator hire experience! Get a real adrenaline rush as you hurtle down an authentic looking racetrack and courses. With a wide range of courses and scenery options, no matter what you are in the mood for you won't be left wanting!
You can choose to go head to head, race in groups of four or even in groups of eight in this exhilarating, white knuckle race simulator! We are convinced that you will struggle to find a more real-life simulation than ours here at PSW Events. So, enjoy the thrill of the race in a corporate or personal environment, with all the safety of the simulation.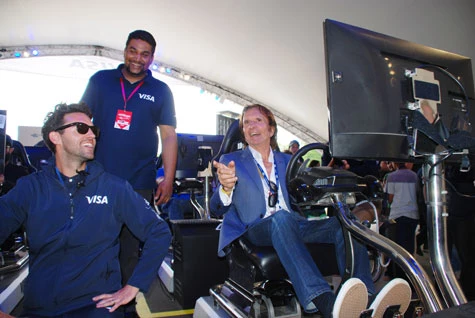 Every attention to detail has been addressed in order to create a fantastic experience for everyone involved. This includes a magnificent steel framed leather wrapped racing wheel, which provides simulator grade force feedback complete with a fully adjustable Corbeau leather rally seat. With our racing seat simulator hire we also include as standard a 3 pedal system alongside six speed shift gears – so you can immerse yourself in the experience and truly feel as if you are careering through forests or around a racecourse.
To really bring our racing seat simulator hire experience to life, we position an advanced and high quality 27-inch HD flat screen in front of you, so you can dive in! (all units are mounted on polished aluminium). We also provide you with and supply every unit with a superbly detailed integrated surround sound system so that every rumble of the engine and screech of the brakes feels just centimetres away. This system includes a dedicated bass shaker which is able to transmit low frequencies into motion! No other system boasts such extensive attention to detail.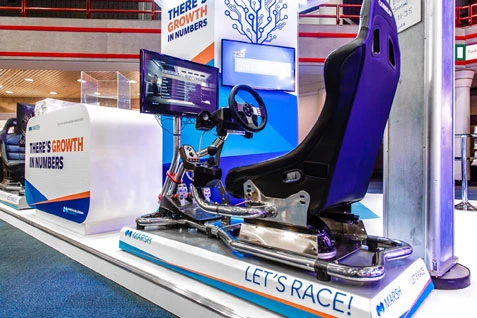 Live In The Fast Lane With Racing Seat Simulator Hire
No matter what kind of event you are hosting, or attending, our linked racing seat simulator hire has been proven to be a guaranteed crowd pleaser with kids and adults alike. In our experience our simulators are especially suited to corporate events with lots of people traffic where we can race up to 12 clients each race, though are equally enjoyed at parties and office events! You can also freely brand the base of each of the aluminium base units with whatever you like (within reason of course). This customisation will give your promotion, exhibit or even a touch of true class, a branded element as well as visuals to entice potential users; helping with engagement and potential brand dissemination.
Please do not hesitate to get in touch with a member of our friendly and professional team if you have any questions or queries about our racing seat simulator hire. We have helped to run and install our units at countless events and are therefore incredibly well versed when it comes to fielding questions. We look forward to hearing from you.