With more and more drivers taking to the roads, it's more important than ever that road safety is implemented in order decrease road accidents. Fortunately, our driving simulator hire is a perfect way for drivers to have additional practice and get accustomed to using the controls; the brakes, clutch and acceleration, before really getting behind the wheel.
It is also the perfect opportunity for new drivers to utilise the ancillary controls, including the lights, horn and indicators, which must be used correctly when on the road to increase safety with other drivers.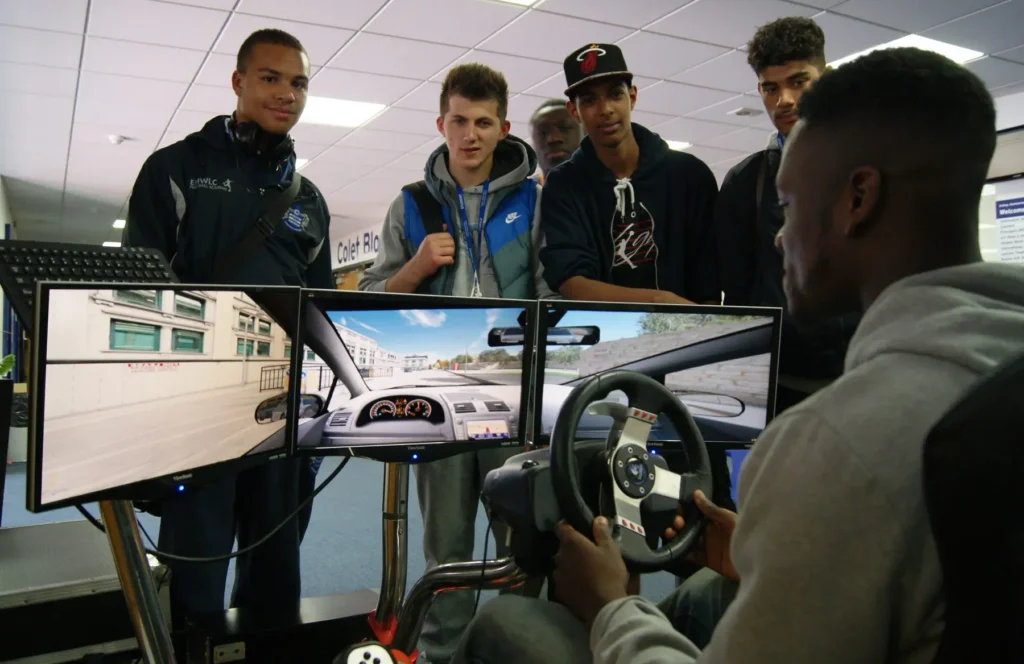 Our driving simulator allows users to enjoy a realistic drive through the environment of their choice. From mountains, to cities and highways, whatever the preference is, users can try out different car models and adapt to the different ways of driving.
Popular with celebrities, including Jon Snow and Eddie Izzard, our driving simulator hire is renowned for providing a realistic experience. Due to the position of the steering wheel to the screens, users will feel as though they are behind the wheel of the car. Once users have finished their driving session, they will receive their results, including an overall rating score for their skill, which is compared to a default average driver. They will also be able to find out their average speed, fuel consumption, total time and distance that they travelled.
Why Choose Driving Simulator Hire For Your Event?
If you are looking for an attractive feature at your corporate event, our driving simulator hire is ideal, as it enables those attending the event to compete against one another to see how they differ when it comes to the results at the end of the drive. Drivers can choose their preferred car model and experience the exact motion and controls of that car.
The steering wheel, gear stick and pedals can be found in the same place as in a real car, so drivers can show off their true ability and not have to adapt to a new layout. When sat behind the wheel users will look through the windscreen and be able to overlook the dashboard, so not only will they feel as though they are out driving, but they can monitor the fuel consumption and keep an eye on the speedometer.
We have years of experience when it comes to simulator hire, and we stock a wide range of different simulators which are perfect for any event. The high quality and realistic features our simulators have means that no matter which one you opt for; users will have a memorable experience. We have a number of motor sport simulators, so you can choose the one that best suits your specific requirements and event.
If you opt for our driving simulator hire at your event, our experienced team can come to your event and set up the equipment. What's more, we will stay with the driving simulator hire all day to ensure that it runs seamlessly and there are no disruptions that could affect your event. If you would like more information about our driving simulator hire and how it can benefit your event, don't hesitate to get it touch. We can provide you with a free quote, and you can check availability for hiring the simulator for your event.