Put your punching skills to the test with our boxing simulator. Challenge your ability to control your power, as you punch the pad or hanging speed bag as hard as you can. The force of your punch will push the bag upwards, resulting in a score being recorded and displayed for you to see. Our boxing simulator hire requires more than just a strong punch, it's about having technique too. Want to become top of the leaderboard? Choose our boxing simulator hire for your event and see who becomes the unquestionable champion.
The boxing simulator comes with a soft leather punch ball to take away some impact of the punch. This boxing simulator has been carefully constructed to ensure that it can withhold being used both inside and outside, making it versatile for all different types of events. What's more, our adaptable boxing simulator can also have the settings altered depending on whether a male or female is playing, so you can change the high score and the difficulty.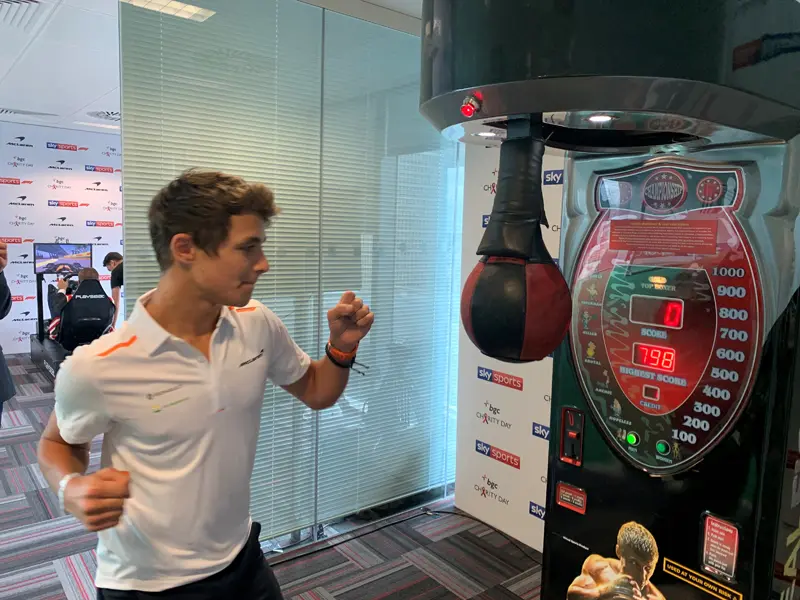 Why Choose PSW Events For Boxing Simulator Hire
At PSW Events, we have years of experience hiring sport, motor and flight simulators, including event entertainment for events across the country. From cricket simulators, to F1 simulators and Batak Pro hire, we have an array of simulators available. Due to our expertise in the industry, our fully trained and knowledgeable team will set up your boxing simulator hire at your event and ensure that the simulator runs seamlessly throughout the duration of your event. What's more, our team will make sure that all health and safety regulations are met, so everyone who uses the boxing simulator is always safe and any injuries are prevented. If you choose our boxing simulator hire, all you need to do is tell us the date, location and time and we will be there will plenty of time before the event starts to make sure the equipment is set up and ready to be used.
If you would like more information about our boxing simulator or make a booking, don't hesitate to get in touch with our helpful team, today.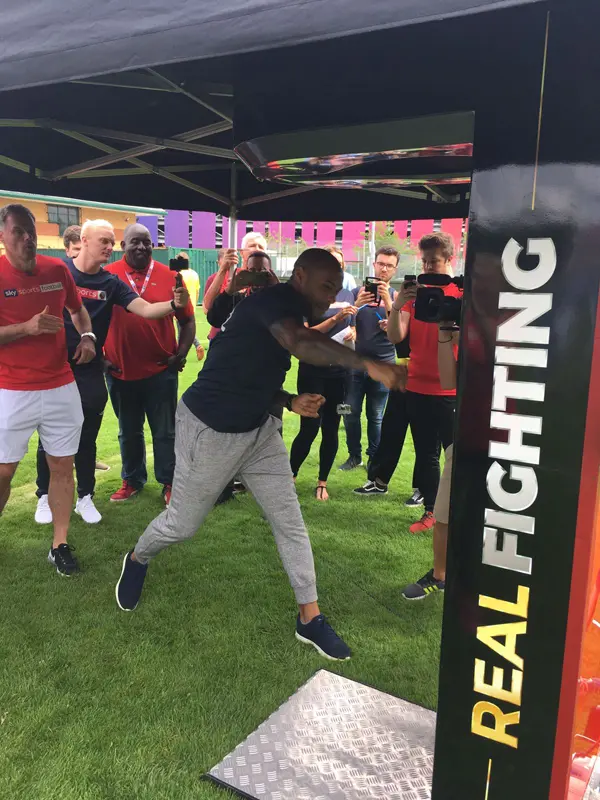 What Makes Our Boxing Simulator Different?
At PSW Events, our boxing simulator includes a sound system and volume control, so you can add to the atmosphere of the event with the noise from the simulator. What's more, there is even LED lighting that makes the boxing simulator more exciting and engaging to users.
Boxing is a great way to get fit without having to hit anyone; you can use boxing simulator hire to relieve your stress and test the ability of your punch. Our simulator requires very low power consumption, making it an efficient and cost-effective addition to your event. Our boxing simulator hire is the perfect challenge that many celebrities, including Tony Bellew have enjoyed using. In fact, our boxing simulator hire has even been used by Thierry Henry during the Sky Sports boxing simulator challenge, which proved to be very popular!