Motion Flight Simulator Hire
Motion Flight Simulator Hire
Our flight simulator hire is one of the most influential and all-inclusive mobile flight and motion simulator hire available making for an accurate and realistic flight experience. Due to the specific detail of our flight simulator hire, including a professional grade joystick and pressure-sensitive pedals, when you fly the aircraft you will clearly feel every move it makes.
Please note that our flight simulator is not a game, but instead an engineering tool, which is perfect for predicting flying qualities of both rotary-wing and fixed aircraft with incredible accuracy. The X-plane also has the ability to forecast the management of pretty much any aircraft, making it the perfect training tool for pilots. This is also ideal for engineers to predict how a new aircraft will fly, at the same time as being a great experience for those looking to learn more about flight dynamics of different aircraft. Our motion flight simulator hire has multiple key features, which is why it has proven to be so popular. The weather display allows pilots to practice in inconsistent weather conditions, and the simulated system failures, which can be either user initiated or completely random, means that no experience in the flight simulator is predictable, making for perfect training and practice. What's more, we can even create your own aircraft, with our ability to customise aircrafts.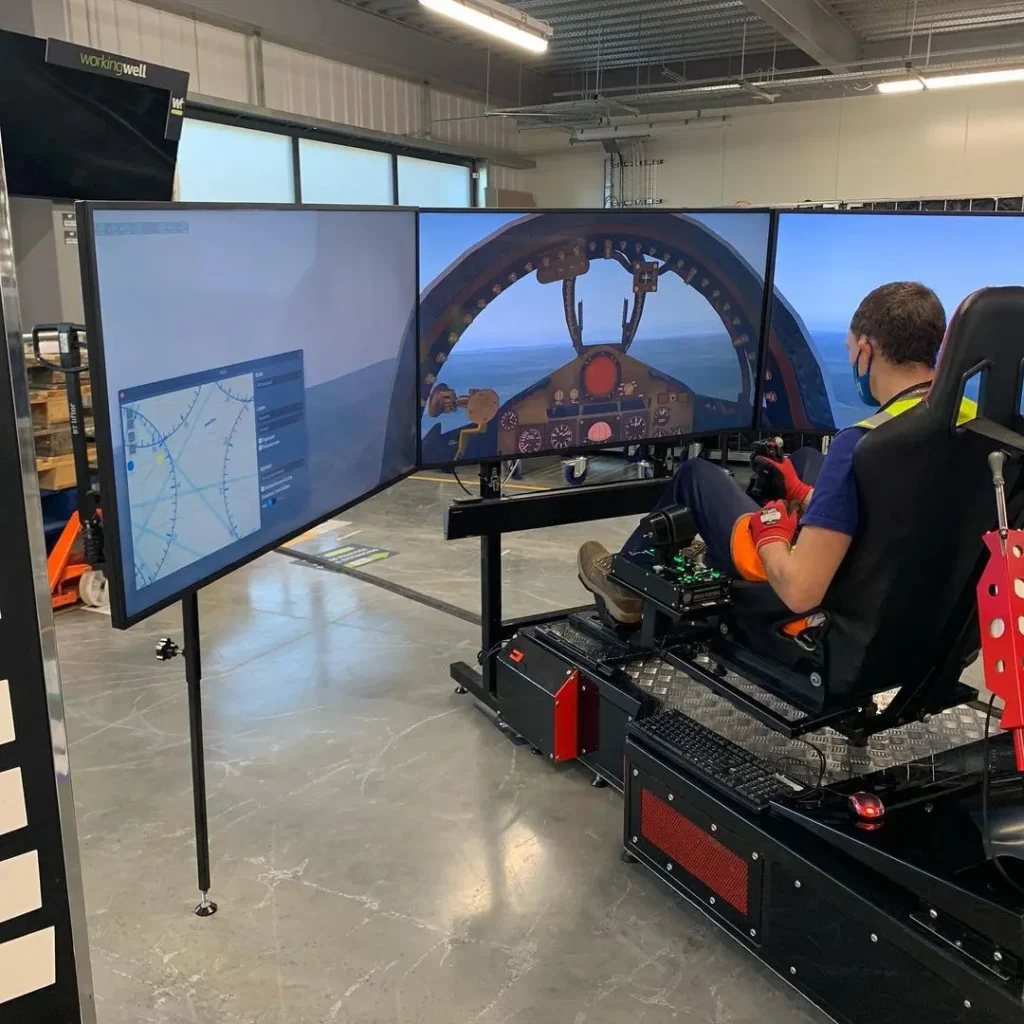 Why Hire A Motion Flight Simulator?
Before pilots take to the sky, they usually have training with the help of motion simulator hire to get to grips with the controls and to further their training. In fact, Virgin Atlantic regularly use our flight simulator, as well as The Air Ambulance charity to gain experience.
Due to the motion being so exact, those who use motion simulator hire and ride it will generally feel as if they have been on an aircraft. This is especially the case, as the seat faces the screen which shows videos that mimic what you would see from flying an aircraft. The seat moves in sync with the video and the screen is placed a specific distance from the seat, to enhance the realism of the experience.
What's Included In Our Flight Simulator Hire?
Here at PSW Events, we provide flight simulator hire experiences that are sure to please. When you contact us, we will discuss the most appropriate package for your event and give you a price. From here, we will arrange a time, date and location to deliver and setup the flight simulator hire. We will operate the flight and motion simulator hire throughout your event, to ensure that health and safety measures are met, and minimum disruption occurs. By setting up and operating the flight simulator hire, it gives us the opportunity to monitor it and even make sure that the screen is in the correct proximately to the seat. Our team at PSW Events have years of experience operating the motion flight simulator hire, so you can be sure that anyone who rides in the flight simulator will be in the safest hands at all times.
For more information about our flight simulator hire or to hire it for your event, don't hesitate to get in touch with a member of our helpful team, today.