Motion Seat Simulator Hire
Motion Seat Simulator Hire
At PSW Events we pride ourselves on the quality, accuracy and attention to detail rendered in our motion seat simulator hire. With this particular simulator, you are able to experience an extraordinary level of detail and of reality as well.
This truly is one of our best and most true to life simulators. When it comes to the features included with our motion seat simulator hire, we have not held back. We include as standard, an ultra-powerful and extremely accurate steering force feedback motor alongside a professional grade steering wheel and pressure sensitive pedals, which allow you to feel and sense every single detail of the vehicle's behaviours, making you feel as if you are really living the situation.
Adding to the overwhelming feelings of reality is the seat included with our motion sear simulator hire experience, as this has been designed specifically to provide you with a real-life experience that we are certain you won't forget in a hurry.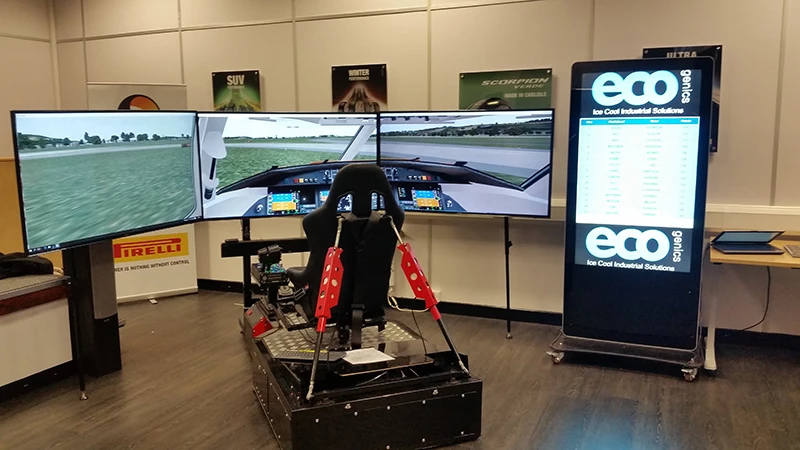 Why Book Our Motion Seat Simulator Hire
One of our main and most important goals with all that we do at PSW Events is to create experiences that are as accurate and as true to life as possible. This means that we spend countless hours perfecting our experiences so that they are the very best simulations that they can be. With the motion seat simulator hire we think we have hit the nail on the proverbial head. We offer with each unit manual gear changing configurations and various dedicated steering wheels all of which feature quick disconnect systems for easy customization. This means that you can enjoy consistently the experience and sensation of a hairpin bend before the final turn, and then the exhilaration as your tear down the final lap towards the finish line with a range of setups.
Experience Accurate Audio And Visuals With Motion Seat Simulator Hire
We have taken great care to include the very best in audio profiling with our motion seat simulator hire. This is because the sound effects, the atmosphere and the overall experience of the simulation is very much dictated by audio i.e. the more realistic the audio, the more realistic the experience. So, to make this the very best it can be we have implemented a 1500W Dolby 5.1 surround sound system. Each and every speaker used in this setup is finely tuned with EQs perfected. Great care and attention are also afforded to placement, ensuring optimum performance and sound quality across the entire range; delighting the senses and captivating the imagination.
Audio is only trumped in importance by video. To this end, we use an exemplary example of video technology and quality in the form of a 55″ screen system, capable of full 1080p resolution and a 60-degree field of view. With the motion seat simulator hire you also have the opportunity to upgrade to the truly unbeatable panoramic 55″ triple-screen setup, which delivers 6,220,800 pixels and a 180-degree field of view; meaning that you have to actually turn your head to see the corners. ​
Do not miss out on this fantastic opportunity to wow your guests or captivate your target audience at a special occasion or business event. Get in touch with a member of the team today to discuss how a motion seat simulator hire from PSW Events can help to breathe magic and excitement into your occasion.