Choose the course you wish to play on from the worlds' finest courses, where you have seen your idols battle it out for the win. With an array of courses and games to play, you can compete in different competitions or play 9/18 holes.
Our advanced mobile golf simulator hire uses the latest technology integrating GPS course graphics so all abilities can play, and users can have the opportunity to experience realistic gameplay.
Additionally, users can use the swing analysis and coaching software, which has proved to be very beneficial to golf players looking to advance their game.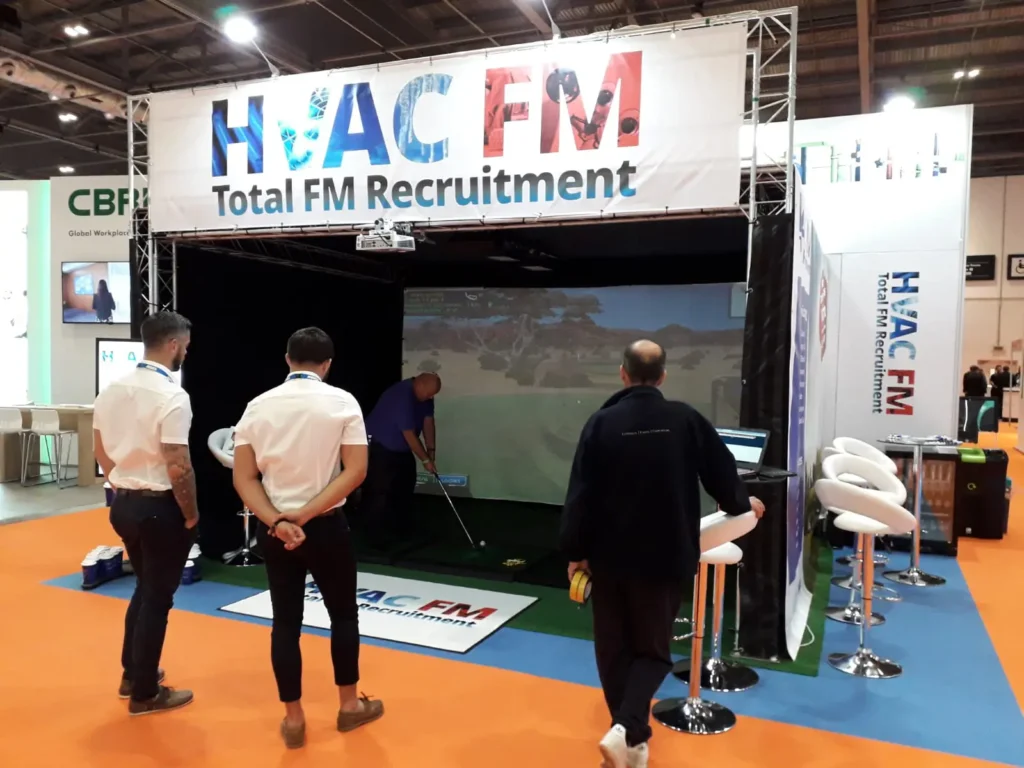 Whether you want to play as an individual or as two players, you can pick the skill level that you want to attempt or work your way up the levels. By opting for our golf simulator hire, you will notice that there is a large choice of unique game environments, as well as multiple modes of play, so you can pretend that you are playing in the tournament of your choice at the appropriate course. What makes the golf simulator hire better than playing on a course is the instant replay that you get to watch. This allows you to view your technique and alter it accordingly, in order to get a better score and improve your style. In addition to this, the post-game analysis enables you to pick out your best moments of play, at the same time as establishing areas that you can work on by studying your play technique.
For those learning to play golf, our golf simulator hire at PSW Events is ideal. It allows you to practice your style and improve, so next time you step foot on a real golf course, you will be a better and more confident player.
What Does Our Golf Simulator Hire Include?
Our golf simulator hire also includes spin adjustment and high score tracking, so you can make the most out of your golf simulator experience and make the experience even more realistic.
When you choose our golf simulator hire service, each player will be able to choose their preferred club from a real set of clubs and practice ball. Players can then physically hit the ball from the stance mat to the projection screen, which showcases a hole on the course. Whether you get stuck in a bunker or you hit a hole in one, you will generally feel as if you're on the course.
Our golf simulator hire service is perfect for events, as it attracts clients and proves to be popular every time. By choosing our golf simulator hire service, all you will have to do is choose a date, location and time and we will do the rest. Not only will we deliver the simulator, but we will also set it up and operate it throughout the event, so you don't have to worry about a thing, knowing that everything is taken care of. If you're interested in our golf simulator hire experience package for a corporate event, get in touch with a member of our team and we can find a package that meets your requirements and a price that matches.